Calcul Québec sponsored the ACS 2019 annual congress
The annual congress of the Association des Communicateurs Scientifiques du Québec (ACS) – or Quebec Association of Science Communication – was held on April 12 and 13, 2019 at the Urbanisation Culture Société Research Center of the INRS (Montreal). Calcul Québec is very proud to join other partners in supporting the organization of this major convention for professionals in this sector.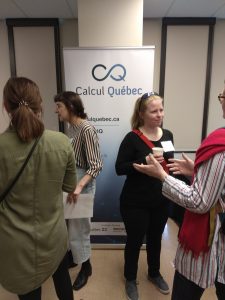 For this year's edition, researchers, experts and professionals from different backgrounds were invited to analyze both good and bad practices of science communication. Among the guests of honour, Rémi Quirion, chief scientist of Quebec, and Guillaume Desbrosse, director of La Rotonde and President of Amcsti (France), closed the congress with a Franco-Quebec dialogue on political issues in science and technology, in scientific culture and on the government action in support of science communication.
In addition, we had the pleasure of meeting Normand Mousseau, professor of physics at the Université de Montréal and former scientific director of Calcul Québec, for a panel on communications concerning climate change.
Calcul Québec would like to congratulate all the members of the organizing committee for this successful event, both in terms of its content and the logistics.
Find the conference program here.
To know more about the ACS: http://www.acs.qc.ca/