Launch event of supercomputer Béluga at ÉTS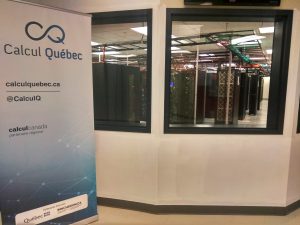 Béluga, Compute Canada's new supercomputer administered by Calcul Québec (CQ), has been available to researchers since April 3, 2019. In order to celebrate the commissioning of the supercomputer and highlight the work accomplished by our staff, Calcul Québec organized a launch event on April 26, 2019.
A large number of CQ staff, management and directors, along with representatives of CQ partners and suppliers and a number of researchers and students from various fields gathered at the École de technologie supérieure (ÉTS), where the supercomputer is located. The event was hosted by the science journalist Nadia Seraiocco.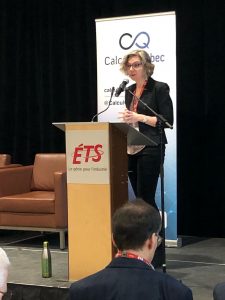 At the event's beginning, Charles Despins, Director of Faculty Affairs, Research and Partnerships for ÉTS, Suzanne Talon, CEO for CQ, Sylvain Coulombe, Associate Vice-Principal, Innovation and Partnerships for McGill University and CQ Board Member, and Alain Veilleux, CTO for CQ, gave a series of introductory speeches. Then, Nadia Seraiocco welcomed Simon Girard from Université du Québec à Chicoutimi, Marlène Sanjosé from the Université de Sherbrooke and Ichiro Fujinaga from McGill University. These three individuals spoke about how their research depends on CQ infrastructure and the added value provided by Béluga in the context of advancing their work.
Lastly, participants were invited to take a closer look at the supercomputer through guided tours of the data centre offered by CQ staff members.
More pictures of the event available on CQ's Flickr.
About supercomputer Béluga
Béluga is part of a network of supercomputers dedicated to research. Preparation of this valuable resource was a collective effort by Calcul Québec's teams at McGill University, Université de Montréal, Université Laval and Université de Sherbrooke. Located at the École de technologie supérieure, the project was funded by the Canada Foundation for Innovation (CFI), the Government of Québec and the Fonds de recherche du Québec.
Read also: Béluga: The latest supercomputer for Canadian researchers