Crazy about… supercomputing
Saguenay, May 26, 2023 — Calcul Québec is participating in the 13th edition of the Fous de la science festival at the Fjord Museum in Saguenay. For this occasion, several science-related organizations have joined forces to create a fun-filled program full of discoveries and surprises!
Our team is excited to engage with young and old alike about computer science and scientific research. In our suitcases, we are bringing pieces of supercomputers and a set of giant cards on the history of supercomputing! It will also be an opportunity for visitors to ask questions about current topics related to artificial intelligence, computer security, or quantum technologies.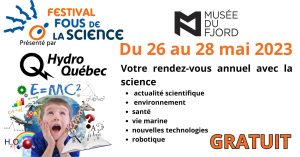 "Our mission is to serve the entire Quebec research community, and a part of that community is located in the higher education institutions of the Saguenay–Lac-Saint-Jean region. It is always a pleasure to showcase the importance of supercomputers in science and especially to meet young people who may potentially become part of the scientific community," explains Suzanne Talon, General Director of Calcul Québec.
About the festival
Don't miss the Fous de la Science Festival, presented by Hydro-Québec, which always takes place on the last weekend of May at the Fjord Museum. Three days of captivating activities and surprising discoveries!
Venez-nous rencontrer