Finding creative solutions
Discover the work of Félix-Antoine Fortin, a scientific analyst at Calcul Québec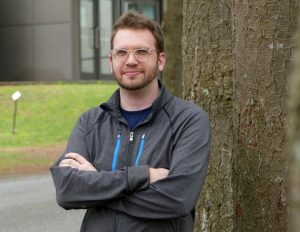 When University of Laval Associate Professor Philippe Giguère was setting up a new course in computer science and software engineering, he called upon Fortin to fix a problem for him. He didn't have enough computing power for the students enrolled so he thought he'd have to reduce the scope of the course.
"Félix-Antoine took the initiative to set up an infrastructure to run Jupyter notebook to offer all 50 students in the course access to GPU resources," says Giguère and adds that Fortin showed great flexibility and agility in setting this up and even attended the first lab session to ensure everything was working properly.
Giguère adds that he works with "enthusiasm and an exemplary smile."
Calcul Québec colleague Maxime Boissonneault agrees, saying Fortin has been the organization's "go-to" person for helping non-traditional users.
"It is quite amazing how many he has helped," Boissonneault says. "The domains covered range from arts and design rendering for a scientific exposition to users in politics and law, as well as forestry, digital humanities, big data and artificial intelligence."
Fortin has also brought the organization numerous corporate and industrial partners over the years.
–
Félix-Antoine is one of the 3 members of Calcul Québec who received an Award of Excellence this year. You can also discover the profils of Richard Lefebvre and Michel Barrette.
About Compute Canada's Award of Excellence
On June 20, 2018, seven Compute Canada team members were recognized for their exceptional contributions and outstanding support of the Canadian research community. To read the other profiles.