Supporting researchers
Discover the work of Richard Lefebvre, a system administrator at Calcul Québec
Even before pediatric medical professor Daniel Sinnett and his team knew there was a problem with their data analysis system, Calcul Québec's Richard Lefebvre was flagging it to them.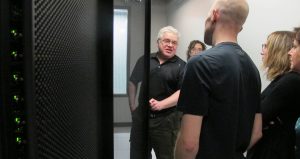 "Richard is always proactive in supporting our research group. He regularly contacts us before a potential problem occurs and arrives with solutions adapted to our needs," Sinnett says. Lefebvre's work also helped his group through a change of systems that could have been disruptive, but wasn't because of his hard work."We are always very satisfied with the service obtained from the Calcul Québec team and Richard has been extremely effective supportive."
Dan Spiegelman, a research assistant in the McGill University lab of human genetics professor Guy Rouleau. Had a similar assessment. "Richard has tirelessly and very patiently supported the most critical aspects of our lab's large workload of data analysis by consistently responding to our many requests for technical help," Spiegelman says.
"He has stepped in to salvage analyses in danger of failing before we were even aware of a problem, and patiently guided myself and several members of our analysis team through the often painful process of learning how to function in a HPC environment. The job of a system administrator is most often hidden and thankless, noticed only when a problem arises, but his dedication is inspiring and his professionalism and attention-to-detail is the grease without which this complex machine simply would not run." he adds.
–
Richard is one of the 3 members of Calcul Québec who received an Award of Excellence this year. You can also discover the profils of Félix-Antoine Fortin and Michel Barrette.
About Compute Canada's Award of Excellence
On June 20, 2018, seven Compute Canada team members were recognized for their exceptional contributions and outstanding support of the Canadian research community. To read the other profiles.